Material structure, properties, and dynamics through scanning transmission electron microscopy
Journal of Analytical Science and Technology
2018
9:11
Received: 14 December 2017
Accepted: 14 March 2018
Published: 11 April 2018
Abstract
Scanning transmission electron microscopy (STEM) has advanced rapidly in the last decade thanks to the ability to correct the major aberrations of the probe-forming lens. Now, atomic-sized beams are routine, even at accelerating voltages as low as 40 kV, allowing knock-on damage to be minimized in beam sensitive materials. The aberration-corrected probes can contain sufficient current for high-quality, simultaneous, imaging and analysis in multiple modes. Atomic positions can be mapped with picometer precision, revealing ferroelectric domain structures, composition can be mapped by energy-dispersive X-ray spectroscopy (EDX) and electron energy loss spectroscopy (EELS), and charge transfer can be tracked unit cell by unit cell using the EELS fine structure. Furthermore, dynamics of point defects can be investigated through rapid acquisition of multiple image scans. Today STEM has become an indispensable tool for analytical science at the atomic level, providing a whole new level of insights into the complex interplays that control material properties.
Keywords
Scanning transmission electron microscopyElectron energy loss spectroscopyEnergy loss near-edge fine structureEnergy-dispersive X-ray spectroscopyFerroelectric domain structuresLead-free piezoelectricsPoint defect dynamicsNanofabrication
Introduction
With the successful correction of lens aberrations, the STEM has become the dominant microscopy technique used today in material research, due to the availability of simultaneous, multiple, imaging and spectroscopic modes. While these benefits have long been appreciated in principle (Crewe 1966; Crewe et al. 1970; Rose 1974), before aberration correction, it was difficult to get sufficient current into the probe for good quality images, nor could spectroscopic signals be obtained at atomic resolution. Aberration correction, bringing smaller, brighter probes, has overcome the historic disadvantage of STEM, that of poor signal to noise ratio (Pennycook and Nellist 2011). In this review, we highlight some recent achievements and applications to materials. More detailed accounts can be found in a number of recent reviews (Pennycook 2015; Oxley et al. 2016; Varela et al. 2017; Gazquez et al. 2017; Li et al. 2017).
Figure
1
shows the principle of STEM. Like a scanning electron microscope, an incident probe is scanned across a sample, but it is thin enough so that the beam is transmitted, then several signals can be detected simultaneously and used to form images with complementary characteristics. The high-angle annular dark-field (HAADF) detector collects Rutherford scattering from the atomic nuclei, producing an image with strong sensitivity to atomic number Z, often called a Z-contrast image. Light columns such as O are only weakly visible in the Z-contrast image, but are seen clearly in a simultaneous bright-field (BF) image or annular bright-field (ABF) image. In perovskites and related materials, this allows the octahedral rotations to be determined, which are crucial to understanding their properties. If the bright-field detector is removed, electrons can be passed through a magnetic sector electron energy loss spectrometer to provide elemental maps and electronic structure information.
Imaging and spectroscopic modes
Analytical modes
Analytical signals such as energy-dispersive X-ray spectroscopy (EDX) and electron energy loss spectroscopy (EELS) may be orders of magnitude weaker than imaging signals involving scattered electrons, as they typically involve inner shell excitation, which has a decreasing cross section with increasing energy loss. Nevertheless, aberration correction allows much larger currents to be focused into atomic-sized probes, as shown in Fig.
9
. This fact, combined with major improvements in EDX collection efficiency, have made atomic resolution EDX mapping quite viable, see for example the near-atomically abrupt SrTiO
3
/LaAlO
3
interface mapped in Fig.
10
.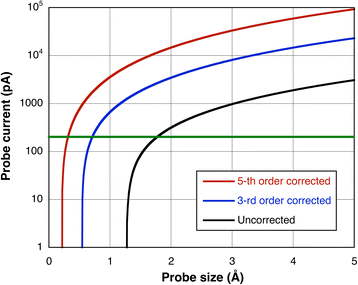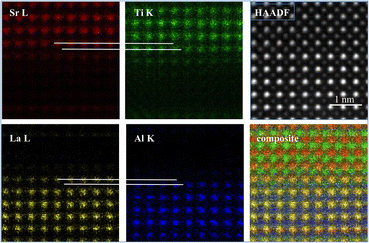 EELS images generally have better statistics because EELS scattering is forward peaked, and for edges not too high in energy, all the inelastically scattered electrons can enter the spectrometer. Hence, it is possible to identify single impurity atoms embedded within a crystal. Figure
11
shows a 0.1% La-doped film of CaTiO
3
grown on SrTiO
3
by pulsed laser deposition. Using the La M edge, single La atoms can be located in specific columns of the CaTiO
3
crystal.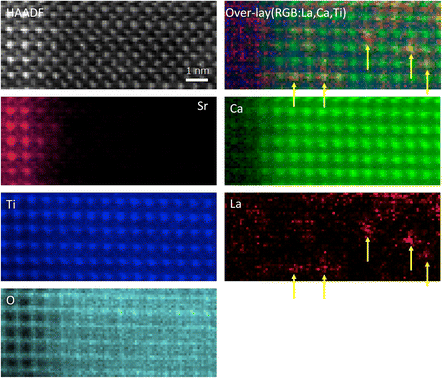 EELS edges also carry information on electronic structure since the transitions from the core level to the first available empty states depend on atomic valence and environment. This is particularly useful in transition metal oxides since the edge features are linearly related to transition metal valence. Hence, oxidation states can be directly extracted from atomic resolution images by comparison to standard spectra, for example, the O-K edge of a series of La
x
Ca
1-x
MnO
3
compounds with varying
x
, is shown in Fig.
12
(Varela et al.
2009
). The first and second peaks can be fitted by Gaussians and parameters such as their ratio or the relative distance between peaks linearly track the Mn oxidation state. This is especially useful for tracking charge transfer across interfaces as shown in Fig.
13
, showing EELS data across a La
0.7
Ca
0.3
MnO
3
/YBa
2
Cu
3
O
7-x
/La
0.7
Ca
0.3
MnO
3
(LCMO/YBCO/LCMO) trilayer (Varela et al.
2017
). By quantifying the fine structure, the valence profile can be extracted, and it shows the LCMO layers have a hole concentration slightly higher than bulk while the YBCO layers have a depressed hole concentration, Fig.
14
. Hence, electrons have transferred from the LCMO into the YBCO, which is consistent with their respective work functions and explains the depressed critical temperatures in the superconductor (Salafranca et al.
2014
). Note also how the normalized pre-peak intensity is higher on the Cu-O planes than on the chains, reflecting directly that the holes responsible for superconductivity reside in the planes.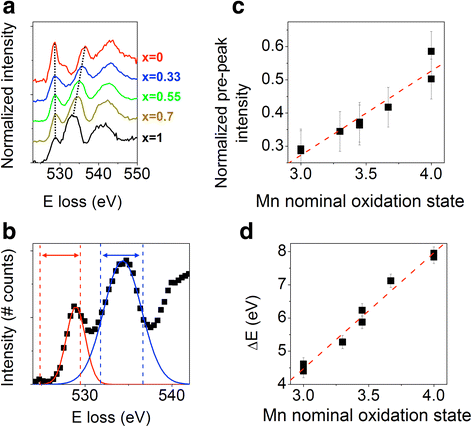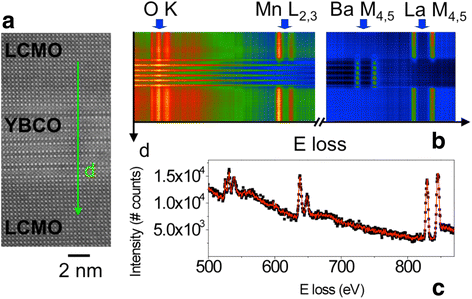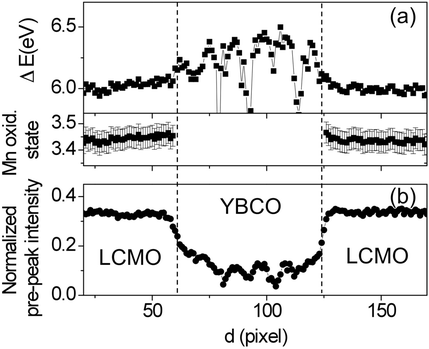 Another recent major advance is in higher energy resolution, achieved through monochromation, which is reaching into the meV range (Krivanek et al. 2014), opening the door to phonon spectroscopy (Lagos et al. 2017), and bandgap mapping (Lin et al. 2016). Such energy resolution is comparable to that of a synchrotron, but the microscope provides much better spatial resolution.
However, especially for low losses, the spatial resolution of EELS images may not be as high as for the HAADF or EDX image because electrons only need to pass close enough to the atom to cause an electronic transition, which can occur some distance away, an effect known as delocalization. Egerton (Egerton 2008) has introduced a measure of delocalization as the diameter containing 50% of the excitations, d50. However, it should be noted that this is not the same as image resolution, which is best defined as the full-width-half-maximum of the inelastic image (Oxley et al. 2016). Because of the delocalization effect, EELS images tend to have long tails more resembling a Lorentzian distribution than a Gaussian. The extended tails reduce image contrast more than they reduce resolution. Note also that delocalization is not a simple function of energy loss but depends on the actual electronic transitions. Recently, several examples have been found where low loss images show atomic resolution (Zhou et al. 2012; Zhou et al. 2012; Zhou et al. 2012). Quantum mechanical simulations show that such contrast arises from specific high momentum transfer transitions; hence, there is no violation of the uncertainty principle (Prange et al. 2012; Oxley et al. 2014; Kapetanakis et al. 2015; Kapetanakis et al. 2016).
Dynamics
The high-energy electron beam can cause ionization of the sample and direct knock-on events (displacement damage). Ionization damage increases as the beam energy is reduced, but knock-on damage decreases, until it disappears entirely below a certain threshold. Historically such processes have been viewed as undesirable damage events, but now that atomic resolution is possible at lower accelerating voltages, there have been many reports of watching atoms move under the beam, allowing insights into atomic motion and the energy landscape of small particles (Kurasch et al.
2012
; Komsa et al.
2012
; Komsa et al.
2013
; Lin et al.
2014
; Yang et al.
2014
; Guo et al.
2014
; Lehtinen et al.
2015
; Jesse et al.
2015
). Figure
15
shows a time-sequence of images of a Si
6
cluster images at 60 keV beam energy. This is too low to knock atoms out of the cluster, but is sufficient to induce structural changes––one atom is repeatedly seen jumping from the left to right. Such studies reveal metastable configurations that would not be seen by simply heating the material.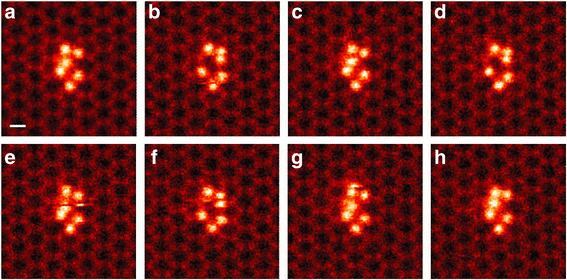 Another interesting insight into the dynamics of vacancies is revealed in Fig.
16
, which shows beam-induced oxygen vacancy ordering in a LaCoO
3
/SrTiO
3
(LCO/STO) superlattice (Jang et al.
2017
). When O vacancies order into specific lattice planes, the strain energy is reduced since the lattice spacing of an entire plane can relax. The plane containing the vacancies expands, causing dark contrast in a Z-contrast image (Kim et al.
2012
). Tracking planar spacings can therefore reveal this ordering process quantitatively. Since the average spacing in the LCO block in Fig.
16
does not change, the images show ordering of pre-existing vacancies rather than generation of new ones.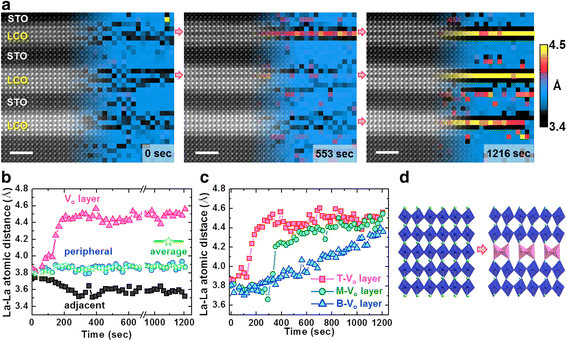 An example of the beam-induced diffusion of a heavy Ce atom is shown in Fig.
17
. Quantification of image intensities matched to image simulations show that the atom jumps between next-neighbor sites inside the crystal, so the beam-induced motion is seeing the same diffusion processes that are normally induced thermally. Correlated vacancy/Ce atom motion and interstitial knock-out processes have also been seen (Ishikawa et al.
2014
). The electron beam can even be used for solid-phase epitaxial crystallization of an amorphous material, as demonstrated by writing the letters ORNL in SrTiO
3
, see Fig.
18
(Jesse et al.
2015
). Such beam-induced nanolithography should be achievable in three dimensions, due to the nanometer depth of focus of the aberration-corrected probe. Recently, it has been demonstrated that the STEM probe can be used to "push" single impurity atoms through the graphene lattice (Dyck et al.
2017
). The potential for single atom fabrication with beams and probes is the subject of a recent issue of MRS Bulletin (Pennycook and Kalinin
2017
).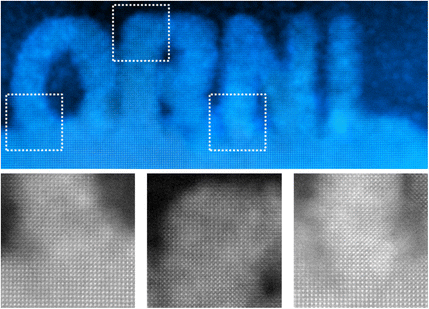 Imaging, analysis, and nanofabrication in 3D
Ideally, we need atomic scale imaging, analysis, and nanofabrication not just in a two-dimensional projection but in three dimensions. In recent years, much progress has been made in tomography, combining views in multiple directions to reconstruct 3D structure (Goris et al.
2013
; Bals et al.
2014
; Goris et al.
2015
; Miao et al.
2016
; Bals et al.
2016
). Figure
19
shows an example of the atomic scale reconstruction of an FePt nanoparticle revealing the presence of different ordered structures and different degrees of ordering (Yang et al.
2017
). Grain boundaries and even point defects could be detected. Notable progress has also been made in EELS and EDX tomography, although atomic resolution remains far off due to the lower signal levels (Jarausch et al.
2009
; Yedra et al.
2012
; Haberfehlner et al.
2014
; Collins and Midgley
2017
).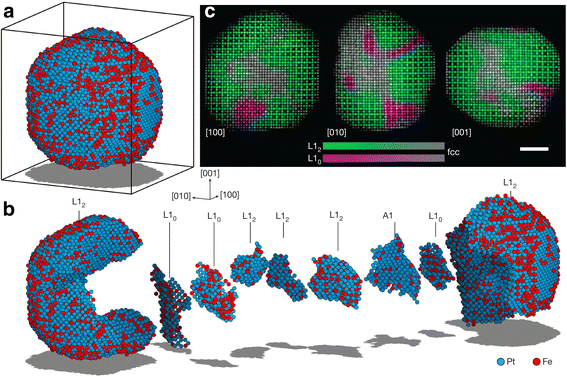 The example shown in Fig.
19
required many hours of data collection, which many samples could not withstand. An alternative method is optical sectioning. Aberration correctors achieve higher resolution through higher probe convergence angles. Lateral resolution increases linearly with increasing probe angle; however, depth resolution increases quadratically. So, with the latest generation of aberration correctors, the depth of focus has reduced to the nanometer scale, and the image comes from a thin section of the sample. Changing the focus gives a series of images at different depths which could also be reconstructed into a 3D image without the need to tilt the sample. At present, such optical sectioning has not achieved atomic resolution, but may with future generations of aberration corrector (Pennycook and Kalinin
2014
; Pennycook
2015
; Ishikawa et al.
2016
). Figure
20
shows a simulated focal series of Ce atoms substituted in AlN for probe-forming angles of 30, 60, and 100 mrad (Ishikawa et al.
2015
). For the larger probe angles, the two dopant atoms can be easily located at 2- and 8-nm depth. Although these simulations assume aberration-free conditions, simulations including chromatic aberration and the effects of electron shot noise suggest this approach should work under realistic conditions (Ishikawa et al.
2016
). Optical sectioning can also be applied to analytical signals with nanoscale resolution, avoiding the need for specimen tilting (Pennycook et al.
2017
). Alternatively, it may prove better to combine depth sectioning with discrete tomography (Alania et al.
2017
).

Conclusions
STEM has developed dramatically in recent years, thanks to the development of aberration correctors which have allowed the advantages of multiple, simultaneous imaging and spectroscopic modes to be exploited with high sensitivity and precision. There are advantages also for in situ and operandi studies since STEM allows good control of dose rate and illumination area (Chang et al. 2011; Jungjohann et al. 2012; Mehdi et al. 2015; Wang et al. 2016). There are also major developments in mathematical image reconstruction techniques, learning from other fields such as computer vision, which are pushing towards lower dose imaging (Stevens et al. 2014; Meyer et al. 2014; Kovarik et al. 2016; Voyles 2017). It is certainly an exciting and rewarding time to be exploring the atomic world.
Declarations
Acknowledgements
All authors are grateful to their collaborators on the work cited here. SJP is grateful to the National University of Singapore for funding. CJL is supported by a Lee Kuan Yew Fellowship. Research at Universidad Complutense is sponsored by the European Research Council PoC-2016 POLAR-EM and Spanish MINECO-FEDER MAT2015-66888-C3-3-R. YMK was supported by the Institute for Basic Science (IBS-R011-D1) and Creative Materials Discovery Program through the NRF (National Research Foundation of Korea) grant (NRF-2015M3D1A1070672). J.H. Jang is supported by the Korea Basic Science Institute grant (T37210).
Funding
SJP is grateful to the National University of Singapore for funding. CJL is supported by a Lee Kuan Yew Fellowship. Research at Universidad Complutense is sponsored by the European Research Council PoC-2016 POLAR-EM and Spanish MINECO-FEDER MAT2015-66888-C3-3-R. YMK was supported by the Institute for Basic Science (IBS-R011-D1) and Creative Materials Discovery Program through the NRF (National Research Foundation of Korea) grant (NRF-2015M3D1A1070672) in Korea. J.H. Jang is supported by the Korea Basic Science Institute grant (T37210).
Availability of data and materials
Not applicable
Authors' contributions
All authors contributed to the results reviewed, and all authors have approved the manuscript for submission.
Competing interests
The authors declare that they have no competing interests.
Publisher's Note
Springer Nature remains neutral with regard to jurisdictional claims in published maps and institutional affiliations.
Open AccessThis article is distributed under the terms of the Creative Commons Attribution 4.0 International License (http://creativecommons.org/licenses/by/4.0/), which permits unrestricted use, distribution, and reproduction in any medium, provided you give appropriate credit to the original author(s) and the source, provide a link to the Creative Commons license, and indicate if changes were made.
Authors' Affiliations
(1)
Department of Materials Science and Engineering, National University of Singapore, Singapore, Singapore
(2)
EM Business Unit, JEOL Ltd., Tokyo, Japan
(3)
Dpt. Física de Materiales, Instituto de Magnetismo Aplicado & Instituto Pluridisciplinar, Universidad Complutense de Madrid, Madrid, Spain
(4)
Department of Energy Science, Sungkyunkwan University (SKKU), Suwon, Republic of Korea
(5)
Electron Microscopy Research Center, Korea Basic Science Institute, Daejeon, South Korea