Molecular mechanisms controlling asymmetric and symmetric self-renewal of cancer stem cells
Journal of Analytical Science and Technology
2015
6:28
Received: 29 September 2015
Accepted: 5 October 2015
Published: 15 October 2015
Abstract
Cancer stem cells (CSCs), or alternatively called tumor initiating cells (TICs), are a subpopulation of tumor cells, which possesses the ability to self-renew and differentiate into bulk tumor mass. An accumulating body of evidence suggests that CSCs contribute to the growth and recurrence of tumors and the resistance to chemo- and radiotherapy. CSCs achieve self-renewal through asymmetric division, in which one daughter cell retains the self-renewal ability, and the other is destined to differentiation. Recent studies revealed the mechanisms of asymmetric division in normal stem cells (NSCs) and, to a limited degree, CSCs as well. Asymmetric division initiates when a set of polarity-determining proteins mark the apical side of mother stem cells, which arranges the unequal alignment of mitotic spindle and centrosomes along the apical-basal polarity axis. This subsequently guides the recruitment of fate-determining proteins to the basal side of mother cells. Following cytokinesis, two daughter cells unequally inherit centrosomes, differentiation-promoting fate determinants, and other proteins involved in the maintenance of stemness. Modulation of asymmetric and symmetric division of CSCs may provide new strategies for dual targeting of CSCs and the bulk tumor mass. In this review, we discuss the current understanding of the mechanisms by which NSCs and CSCs achieve asymmetric division, including the functions of polarity- and fate-determining factors.
Keywords
Cancer stem cellNormal tissue stem cellsAsymmetric and symmetric cell divisionFate determinantsSelf-renewalCancer therapy
Review
Introduction
Cancers are composed of a heterogeneous population of hierarchically organized and functionally diverse cells, in which cancer stem cells (CSCs) are placed at the top. CSCs are characterized by self-renewal ability to maintain their proportion in tumors and the potential to differentiate into non-tumorigenic bulk tumor cells (Schatton et al. 2008). Abundant evidence suggests that CSCs are responsible for the growth and recurrence of tumors and their resistance to chemo- and radiotherapy (Alison et al. 2011; Clevers 2011). The ratio of self-renewing CSCs and the activity of non-CSCs to de-differentiate back to CSCs have been correlated with poor prognosis and clinical outcomes of cancers (Frank et al. 2010; Pece et al. 2010). Increasing attention is drawn to the development of therapeutic strategies targeting CSCs, singly or in combination of traditional treatments targeting bulk tumor masses.
During self-renewal, the potential for both proliferation and differentiation of the parental cell is retained in one or both progenies. Many genes and signaling pathways involved in the self-renewing process of normal stem cells (NSCs) were shown to be oncogenes (Shackleton
2010
). CSCs in tumors maintain their population through self-renewal cell division similar to that of NSCs in tissues (Fig.
1
). Both NSCs and CSCs can self-renew through asymmetric cell division in which one daughter cell possesses stem cell properties, and the other undergoes differentiation (Betschinger & Knoblich
2004
; Clevers
2005
; Doe & Bowerman
2001
; He et al.
2009
; Knoblich
2010
; Morrison & Kimble
2006
). Through this mechanism, a stem cell can produce both self-renewing and differentiating cells in a single cell division. However, both CSCs and NSCs sometimes expand their population under specific processes, such as development, tissue injury, and tumor growth (Doetsch et al.
2002
; Kimble & White
1981
; Lechler & Fuchs
2005
; Morrison et al.
1997
; Wright et al.
2001
). They achieve this task through symmetric cell division, which generates two daughter stem cells. The balance between asymmetric and symmetric division is orchestrated by various regulators in normal tissues and tumor masses (Morrison & Kimble
2006
; Al-Hajj & Clarke
2004
; Clarke & Fuller
2006
). Such regulators range from key signaling mediators such as Wnt, Notch, and Hedgehog to cell cycle components such as p53 and CDK inhibitors (Al-Hajj & Clarke
2004
; Luo et al.
2010
; Orkin & Zon
2008
). These proteins play a crucial role in not only CSC survival but also other processes, such as the survival and proliferation of NSCs in hematopoietic, neural, epidermal, and intestinal tissues.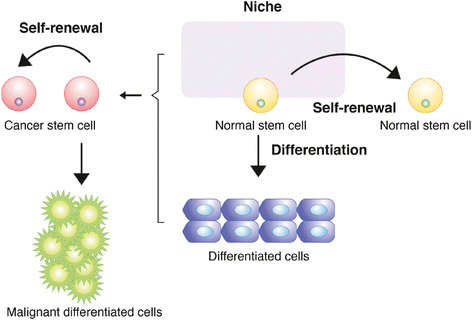 Conclusions
Despite abundant knowledge accumulated in cancer biology and remarkable advancements in clinical translation, cancer is still one of the most fatal diseases. The major challenges in cancer treatment are the limited efficacy of chemo- and radiotherapy and the recurrence of surviving cancer cells. Accumulating evidence suggests that CSCs contribute to tumor progression and recurrence. The identification of pathways and molecules that support the properties of CSCs may lead to the development of CSC-targeting therapeutic strategies that improve the efficacy of cancer treatment. Such CSC treatments may be combined with conventional therapies targeting the tumor bulk. One key property of CSCs is their ability to undergo self-renew, which is achieved through asymmetric division. Extensive studies on NSCs revealed the mechanisms of asymmetric division which involves a number of polarity and fate determinants whose spatiotemporal distribution regulates the fate of two daughter cells. Although it is technically challenging to isolate CSCs, NSCs and CSCs will prove themselves to share similarity in the mechanisms underlying asymmetric division. Continued research on the regulation of asymmetric and symmetric self-renewal division of CSCs will provide a means to target CSCs in various tumors.
Declarations
Acknowledgements
We thank Michael Molstad (Seoul National University) for editorial assistance. This work was supported by the NIH grant HL083365 (to Y.T.K. and Song Li), the Basic Science Research Programs of the National Research Foundation (NRF) funded by the Ministry of Science, ICT and Future Planning (MSIP) of Korea (NRF-2013R1A2A2A01014170 to Y.T.K.) and by the Ministry of Education (NRF-2013R1A1A2058983 to Y.D.Y.), Seoul National University (SNU) Hospital Research Fund (to Y.T.K.), and SNU Nobel Laureates Invitation Program.
Open AccessThis article is distributed under the terms of the Creative Commons Attribution 4.0 International License (http://creativecommons.org/licenses/by/4.0/), which permits unrestricted use, distribution, and reproduction in any medium, provided you give appropriate credit to the original author(s) and the source, provide a link to the Creative Commons license, and indicate if changes were made.
Authors' Affiliations
(1)
Protein Metabolism Medical Research Center and Department of Biomedical Sciences, College of Medicine, Seoul National University, Seoul, Korea
(2)
Neuroscience Research Institute, Seoul National University College of Medicine, Seoul, Korea
(3)
Ischemic/Hypoxic Disease Institute, College of Medicine, Seoul National University, Seoul, Korea