Optical characteristics and photothermal conversion of natural iron oxide colloid
Journal of Analytical Science and Technology
2013
4:20
Received: 4 September 2013
Accepted: 17 October 2013
Published: 15 November 2013
Abstract
Background
Chemical compositions and spectroscopic characteristics of the natural floating colloids in brine mineral water were investigated in this study.
Methods
The natural colloidal materials were investigated using electron microscopy, X-ray crystallography, elemental analysis, and absorption and emission spectroscopies.
Results
The natural colloidal particles have a spherical shape, with average diameter of 200 nm, and amorphous crystalline structure. The colloids are mostly composed of iron and oxygen atoms; they also contained small amounts of trace elements and rare earth minerals. In particular, the colloids show remarkable absorption and emission characteristics in the wide spectral region from ultraviolet (UV) to near infrared (NIR), which could make it useful in photoconversion and hyperthermal applications.
Conclusion
From the photothermal conversion efficiency measurement using an infrared thermography under irradiation of visible and NIR light, interestingly, it was found that the natural colloids have higher photothermal conversion efficiency, as compared with those of several different-typed minerals.
Keywords
Natural colloid
Geumjin spring water
Rare earth mineral
Near-infrared emission
Photothermal conversion
Background
Brine mineral water (BMW) is defined as any spring water that is gushed out from the bedrock located within about 1 km from the coast generally. BMW is known to include more abundant mineral ingredients, such as calcium (Ca), magnesium (Mg), strontium (Sr), manganese (Mn), zinc (Zn), nickel (Ni), and iron (Fe) in comparison with other ocean deep water. Moreover, BMW has an excellent mineral balance similar to that of human body fluids (Kim et al. 2008; Moon et al. 2004). Recently, BMW drawn from 1,100 m below the coast terrace of Geumjin (GJ) area (Gangneung City, Republic of Korea) has attracted special attention because it contains several functional minerals such as selenium (Se) and vanadium (V). Moreover, it is confirmed that this BMW has the most suitable mineral balance for Ca and Mg particularly because it is helpful for absorbing Ca to the human body. Using this unique BMW from the GJ area (GJ BMW), many studies have been recently performed in the various fields of industry, like functional food, cosmetics, and medicine. Kim et al. (2010) reported for the effect of the GJ BMW on atopic dermatitis in vivo with atopic dermatitis model. They have shown that the GJ BMW can not only suppress the ear swelling induced by trimellitic anhydride (TMA) but also attenuate hyperactivated lymph nodes stimulated by TMA. Moreover, they reported that the growth of several kinds of cancer cells was inhibited by GJ BMW through a dose-dependent manner (Kim et al. 2009). Contrary to the various studies and the practical uses of the GJ BMW, however, the floating colloidal particles, which are observed in the GJ BMW, are still not well known. These colloidal particles are suspended in high concentration in the GJ BMW, and they cause the GJ BMW to have a unique opaque color like red wine. However, after several hours, the floating colloids are mostly deposited on the bottom by self-aggregation. By now, there has been no systematic study on these sediments. In this work, we report on the chemical compositions and spectroscopic properties of the natural colloidal particles in the GJ BMW. The optical properties of the colloidal particles were investigated by ultraviolet–visible (UV–vis) absorption and near-infrared photoluminescence (NIR-PL) spectroscopies and then their photothermal conversion characteristics were compared with those of the other mineral materials by infrared (IR) thermography. Here, we first report the unique optical characteristics of broad vis-NIR absorption and intense NIR emissions from the natural colloidal material. Interestingly, the colloidal material shows notable photothermal conversion property.
Methods
Sampling
BMW were collected at the Geumjin spring area located in the Gangneung City in the east region of the Republic of Korea (Figure
1
). The BMW is originally a clear solution, but its color gradually turns to red orange with time under ambient condition. The red orange colloidal particles were typically sedimented within a day. The sedimented colloidal particles in the spring water were collected by centrifugation and then rinsed thoroughly with deionized (DI) water. The samples were dried at 100°C for 24 h in an oven, which were further used for all analyses and measurements.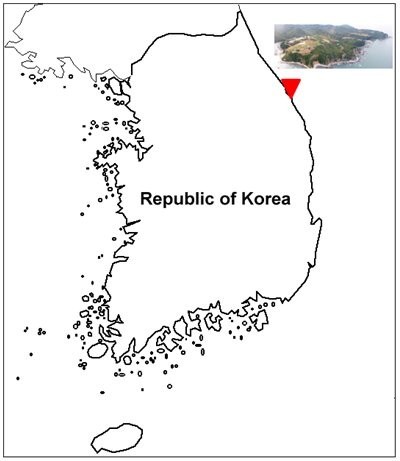 Morphology and composition characterization
To study the particle formation kinetics, dynamic light scattering (DLS) measurement values were examined using an electrophoretic light scattering spectrophotometer (ELS-8000, Otsuka Electronics Co., Ltd., Osaka, Japan). The shape and size of the GJ colloidal particles were analyzed using a field emission scanning electron microscope (FESEM, SU-70, Hitachi Ltd. Tokyo, Japan) operating at 15-kV accelerating voltage. Powder X-ray diffraction crystallography (XRD) patterns were obtained with an X-ray diffractometer (X'Pert Pro, PANalytical, Almelo, The Netherlands). Elemental composition was determined using an energy dispersive X-ray spectrometer (EDS) which is attached to the FESEM. More quantitative analysis of trace elements in the GJ colloidal particles was performed by inductive coupled plasma mass spectrophotometry (ICP-MS) (Elan DRCII, Perkin Elmer, Santa Clara, CA, USA) and inductively coupled plasma atomic emission spectrometry (ICP-AES) (JY Ultima2C, Jobin Yvon, Paris, France).
Spectroscopic characterization
UV–vis absorption spectrum of the GJ colloidal particles which are dispersed in ethylene glycol was recorded immediately using an UV–vis spectrophotometer (S-3100, Scinco Co., Ltd., Seoul, South Korea) at room temperature. A conventional quartz cuvette of 1-cm optical path was used for the measurements.
NIR photoluminescence (PL) spectrum of the GJ colloidal particles was also measured on a spectrophotometer (iHRA-330 PL, Jobin Yvon, Horiba) equipped with a liquid nitrogen-cooled InGaAs photodetector in a wavelength range of 800 to 1500 nm with a monochromatic 580-nm light (Xe lamp) as an excitation source.
Photothermal conversion measurements
Halogen illuminator (FHL-101, 100 W, Asahi-Spectra Co., Ltd., Tokyo, Japan) was used as a visible-NIR light source. The illuminating light from FHL-101 was delivered to the surface of the sample by fiber optic ring light guide (MRG53-1000S, Moritex Corp., Saitama, Japan). The distance between the sample surface and the fiber optic ring was about 8 cm. The illumination power was fixed at 200 mW/cm2 at the sample surface. After light illumination, the temperature change of the samples was recorded using an infrared thermal camera (SC7600, FLIR Systems, Croissy-Beaubourg, France), every 10 s for 30 min. All the dispersed samples (10 mg/10 ml DI water) were placed in Teflon bath (10-mm diameter, 500 μl).
Conclusion
We have investigated for the composition, structure, and optical characteristics, and photothermal conversion efficiency of the floating colloidal particles in brine mineral water at the Geumjin area. In this study, we first observed unique optical characteristics of broad vis-NIR absorption and intense NIR emissions from the natural colloidal material including additional co-doped elements. The colloidal material shows notable photothermal conversion efficiency compared to the other natural products. The obtained results show that the GJ colloidal particles would have distinctive promise for use in various fields, such as therapeutic and biomedical diagnosis applications in addition to conventional photothermal therapy.
Declarations
Acknowledgements
This work was supported by a grant (no. PGB066) from the Catholic University of Korea (Seoul St. Mary's Hospital), a grant (no. K3208F) from the Korea Basic Science Institute (KBSI), and partly by a KRF grant (no. 2011–0008671). We thank the Korea Basic Science Institute, Seoul Center (Seoul, Korea) for the help with the ICP-AES and ICP-MS measurements.
Authors' Affiliations
(1)
Gangneung Center, Korea Basic Science Institute (KBSI), Gangneung, Republic of Korea
(2)
Center for Analytical Instrumentation Development, Korea Basic Science Institute (KBSI), Daejeon, Republic of Korea
(3)
Tongyang Life Science Corp.,, Seoul, Republic of Korea
Copyright
© Kang et al.; licensee Springer. 2013
This article is published under license to BioMed Central Ltd. This is an Open Access article distributed under the terms of the Creative Commons Attribution License (http://creativecommons.org/licenses/by/2.0), which permits unrestricted use, distribution, and reproduction in any medium, provided the original work is properly cited.