Synthesis of alumina, titania, and alumina-titania hydrophobic membranes via sol?gel polymeric route
Journal of Analytical Science and Technology
2013
4:18
Received: 7 May 2013
Accepted: 16 October 2013
Published: 1 November 2013
Abstract
Nanometer TiO2-Al2O3 composite membranes were synthesized through the sol?gel polymeric reaction of TiCl4 and AlCl3 in the presence of acrylic-acrylamide copolymer as a template. The dried samples were characterized by DTA, TGA, FTIR, XRD, and TEM to determine the thermal behavior, chemical composition, crystal structure, shape, and size of the particles. Octyltrichlorosilane was chosen as a silane coupling agent to increase the hydrophobic nature of the prepared membranes. The morphological structure, hydrophobic nature, water permeability, and desalination efficiency of the prepared membranes were studied by SEM, contact angle, permeability, and NaCl rejection coefficient (R%) measurements. The crystal structure of titania and alumina particles in the composite was affected by the AlCl3 and TiCl4 feed ratio. As the titania concentration increased, the average particle size of the composite particles became larger and the uniformity of the membrane layer decreased. The alumina (75%)-titania (25%) composite (AT25) showed a uniform crack-free membrane layer with a pore diameter of 12.9?nm and a porosity of 21.46%, with great hydrophobic nature, and with contact angle reaching 116?. This membrane can withstand calcination temperature up to 700?C, as the alumina and titania were present in their active forms: gamma-alumina and anatase, respectively. The membrane produced from this composite showed a high surface area of 333?m2/g with a respective particle size of 4.6?nm. Moreover, it showed a high ability to reject NaCl from water with a rejection coefficient of 73% and a high permeation flux of 4.8?l/h?m2 at 75?C.
Keywords
Contact Angle
Electron Diffraction Pattern
Water Flux
Anatase Phase
Softening Point
Background
Ceramic membranes are gaining more and more importance in separation technology, especially in combination with catalytic processes. They have several positive merits especially their chemical resistance, thermal resistance, and high permeability (Schaep et al. 1999; van Gestel et al. 2002 2003). The main aim of the research work in this field was the production of new nano-porous metal oxide membranes. Thus, great advances were made regarding the development of non-silicate ceramic membranes. Systems like ZrO2 and TiO2 were taken into consideration, in particular with respect to their chemical resistance (Schaep et al. 1999; van Gestel et al. 2002 2003; Shojai and Mantyla 2001). Also, ?-Al2O3 and TiO2 were of main interest (Xu and Anderson 1993; Larbot et al. 1994; Wildman et al. 1994; Puhlf?r? et al. 2000). These membranes have high selectivity against small macromolecules. The reduction in pore size from ultrafiltration to nano-filtration range was enabled by changing the method of synthesis and the precursors used from the colloidal to the polymeric sol?gel technique.
Alumina membranes based on the application of a template polymer were produced over decades (Benfer et al. 2001; Richter et al. 1997; Benfer et al. 2004) with varying pore sizes and permeation rates. However, there was a current limitation for the practical application of these alumina membranes due to the failure in the production of a complete crack-free layer by the sol?gel technique. The partial kinetic ?- to ?-alumina phase transformation occurs upon calcination of the alumina membrane layer at temperatures above 600?C. Phase transformation takes place by coalescence of small (?-alumina) particles into larger (?-alumina) grains, accompanied by considerable grain and pore growth. This was practically overcome by calcination at a minimum temperature of 600?C to obtain well-defined, mechanically stable layers of alumina membranes (Gaber 2007). The effect of phase transformation and accompanying grain growth can be avoided as suggested by Kumar, by retarding its occurrence to a temperature above the normal calcination temperature. It has been suggested that the presence of a second phase decreases the sub-coordination number of the prepared particles in the nano-composite matrix (Sekulic et al. 2004; Kumar 1993; Zhang and Banfield 1999). The presence of titania as a second phase to form an alumina-titania composite membrane retards the ?-alumina transformation and keeps it in its amorphous phase, avoiding its transformation into ?-alumina phase; at the same time, the presence of alumina keeps the titania in its stable form as anatase phase.
The present work aims at preparing alumina-titania composite membranes that can withstand temperature up to 700?C. The prepared membrane surfaces were modified by octyltrichlorosilane to render them hydrophobic for desalination purposes. The properties and microstructure of the prepared membranes before and after modification were characterized.
Methods
Materials
Pure chemical reagents were selected to prepare the required membranes. The following precursors were used: aluminum chloride (AlCl3) was supplied by Aldrich (St. Louis, MO, USA), titanium chloride (TiCl4) by Fluka Chemika (Buchs, Swizerland), aluminum hydroxide (Al(OH)3) by Arabian Medical & Scientific Lab. Sup. Co. (Dubai, United Arab Emirates), ammonium persulfate and acrylic and acrylamide monomers by Merk-Schuchardt (Darmstadt, Germany), polyvinyl alcohol by German, and octyltrichlorosilane by Aldrich.
Method of preparation of the membranes
The method of membrane preparation is demonstrated by the flow chart in Figure?
1
.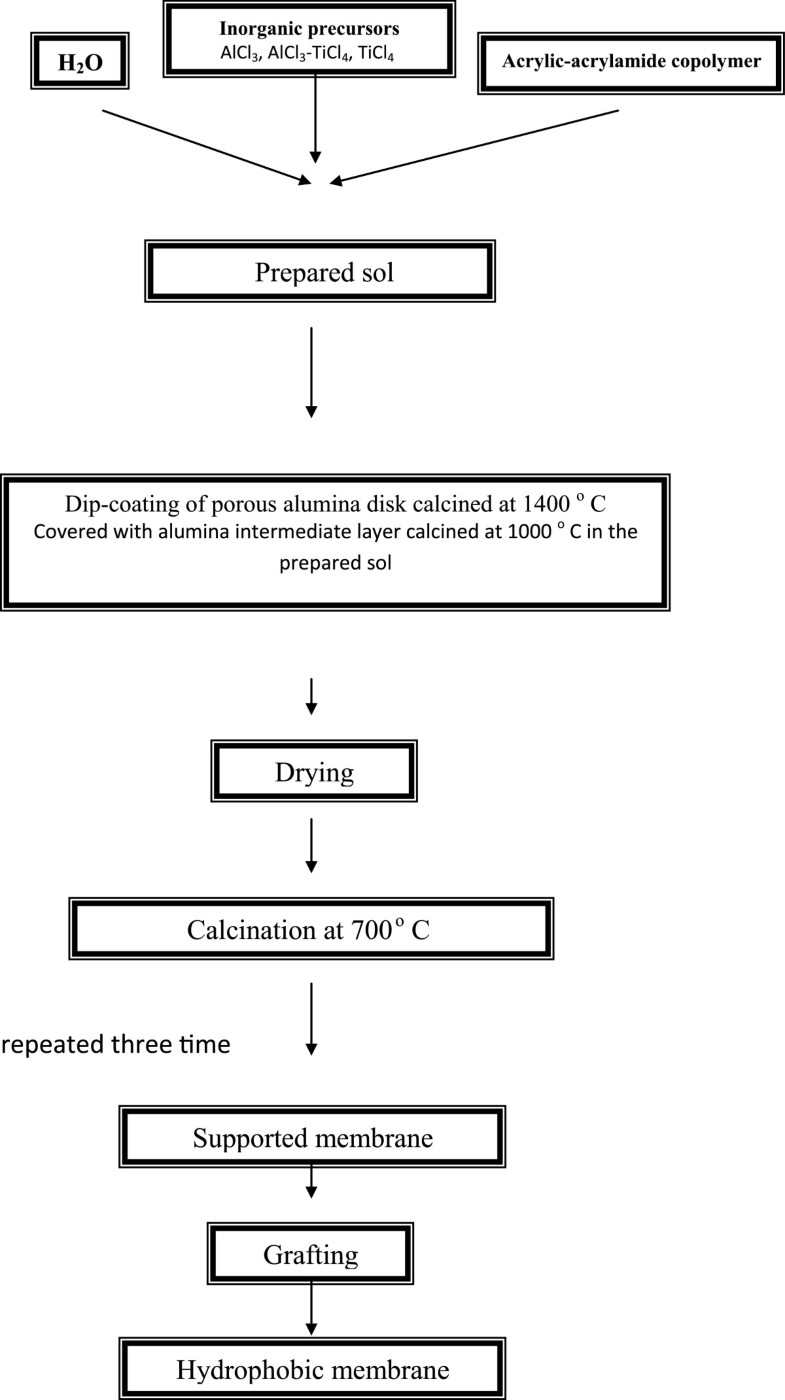 Preparation of the acrylic-acrylamide copolymer
Acrylic-acrylamide was polymerized on laboratory scale via a free radical method to obtain the copolymer Gaber AA (
2007
). Preparation of alumina membranes by sol?gel polymeric route 658 M.Sc Thesis, Cairo University.The following shows the reaction of formation:
Preparation of the alumina support
Supports in the form of disks with the following dimensions: diameter 25?mm and thickness 2?mm, were processed from ?-alumina powder (commercial alumina) with a mean particle size ?10??m and 2?wt% polyvinyl alcohol as organic binder under a uniaxial press and a pressure of 200?MPa. The specimens were dried and then first fired in a muffle furnace in air at a rate of 2?C/min up to 500?C and maintained for 2?h at this temperature to eliminate the organic binder. Heating was then continued at a rate of 4?C/min up to 1,400?C for 4?h and then cooled to room temperature.
Conclusions
The study of the preparation of membranes via the application of the acrylic-acrylamide copolymer as template was successful in overcoming the presence of cracks through the different additions. It was possible to obtain membrane layers of uniform nano-pore size and porosities between 25% and 37% fired at 700?C. The crystal and morphological structures of the alumina-titania membranes were affected by the AlCl3 and TiCl4 feed ratio. The addition of titania succeeded in hindering the crystallization of the alumina phases and eliminating the possibility of the accompanying cracking. The polymeric route using acrylic-acrylamide copolymer as a template polymer led to preparation of membranes with ill-crystalline nature at 600?C that started to crystallize at 700?C which showed high surface area values as well as nano-pore size and meso-porosities. The results of water permeation showed that there is an upper limit for the addition of titania. The final supported membranes prepared using alumina-titania (AT25 and AT50) precursors showed uniform layers without cracks. The alumina-titania composite (AT) membranes showed a pore size of 13 to 46?nm, porosity of 21% to 34%, and water permeability of 2 to 8?l/h?m2/bar. These membranes can be used for ultrafiltration purposes, such as pretreatment of water desalination and concentration of aqueous solutions (fruit juice, sugar solution). The polymeric sol?gel method used in this study to produce different hydrophobic alumina-titania membranes which utilized chloride salts of aluminum and titanium using acrylic-acrylamide as a template polymer and octyltrichlorosilane as a grafting agent is promising and can be used for different membranes.
Authors? contributions
AMANY Gaber carried out the membrane prepration studies and drafted the manuscript. Doreya Ibrahim: participated in the design of the study and revese the manuscrpt. Fawzia Fahim: prepared the template polymer used in the study. Elham ELZANZTI: measure the permeability performance of the different prepared membranes. All authors read and approved the final manuscript
Authors' Affiliations
(1)
Ceramic Department, National Research Centre, Cairo, Egypt
(2)
Polymers Department, National Research Centre, Cairo, Egypt
(3)
Chemical Engineering Department, National Research Centre, Cairo, Egypt
Copyright
© Gaber et al.; licensee Springer. 2013
This article is published under license to BioMed Central Ltd. This is an open access article distributed under the terms of the Creative Commons Attribution License (http://creativecommons.org/licenses/by/2.0), which permits unrestricted use, distribution, and reproduction in any medium, provided the original work is properly cited.